KEYNOTE AND MOTIVATIONAL GUEST SPEAKER
BUSINESS • CONSUMER TRENDS • TECHNOLOGY • PARENTING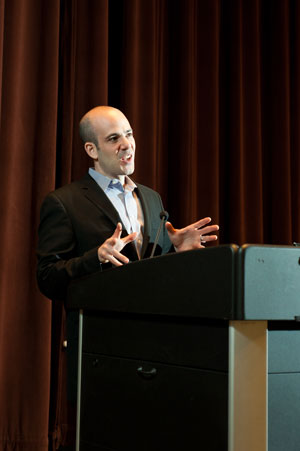 Among today's top parenting, youth and business speakers, Scott specializes in crafting key note guest speaking presentations and workshops for schools, corporations, colleges, businesses, associations, organizations, meeting planners and trade events of all sizes.
A veteran motivational speaker and proven parenting expert renowned for his ability to excite and engage a speaking audience with presentations, workshops, interviews and custom keynotes, we invite you to consider booking him for your next event today.
From meetings to conventions, summits, tradeshows, seminars and industry retreats, find out why industry experts and thought leaders the world over recommend public speaker Scott Steinberg to put today's biggest topics, trends and headlines in perspective.
Areas of Expertise Include:
Parenting and Family Issues
Dads and Fatherhood
Technology, Gadgets, Apps and Online Safety
Consumer Products and Trends
Business and Start-Ups
Futurist and Trend Analysis
To book Scott as a key note speaker for your next event, please contact:
Dan Dwight, 888-507-2246